Very good condition and full working order. Comes with matching stool. May have some minor marks around the body as you would expect from used piano. Please check photos and demonstration video.
https://youtu.be/nieuwD1jfLw
CLP-S308PE
ELECTRONIC PIANO
GOOD DESIGN AWARD
---
At only 43cm deep, the design of this Clavinova is simple but magnificent.
Harmony
The classic modern form of the CLP-S308 features only the bare essentials required of an electronic piano. Designers rejected any ornamentation, opting instead for an exterior that will match any taste or surroundings. More than the voice of the instrument, this reserved and restrained design emphasizes the person who plays it.
Timeless
The design of the CLP-S308PE is an exploration into the essential nature of the electronic piano, rather than an attempt at replacing the acoustic piano. Its uncomplicated form combines two simple boxes to achieve a beauty in a style that fits any space. This makes it a true partner for life.
Elegance
A slim, stylish design perfect for modern living. The design features an advanced body that can be split, and loses none of the elegance at the heart of an upright piano. The CLP-S308PE has compressed and reconstructed the grace of the piano, the king of musical instruments, and reflects the careful attention to detail and aesthetics so typical of Yamaha.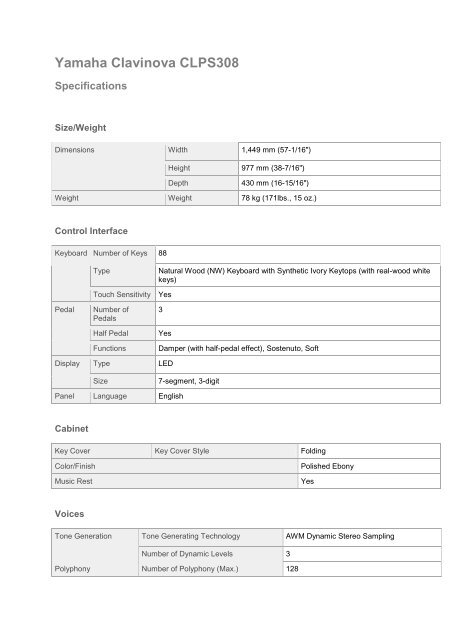 Inspiring
Pedals, keyboard height, touch, the angle of the music stand…in every aspect, the slim, compact shape of the CLP-S308PE offers the player the same playing environment as a traditional upright piano. Constructing the music stand and keyboard lid required the development of complex new mechanisms that made it possible for designers to bring a new slimness to the traditional playability of the Yamaha piano.